Halloween and candy for your teeth
Friday, October 15th, 2021
Halloween is right around the corner and we understand that candy and treats are a bit part of Halloween.
We thought we would give a list of some candy you may want to resist sinking your teeth into this year.
Sticky Candy – Sticky candy is an obvious one. These candy types get stuck in and in between your teeth which the longer pieces remain stuck the more time it allows for tooth decay. In addition we have seen some cases in which candies such as taffy and caramel have been sticky enough to pull our wiggly teeth, braces, fillings and more.
Sour Candy – Not only are the sugars bad for you but sound candy typically contains acids. Acids can break down your enamel which helps protect your teeth.
Hard Candy – Rule of thumb, the longer something that has sugar in it stays in your mouth, the more you are exposing your teeth to decaying. Hard candy has also been known to pop out fillings and fracture teeth. The American Dental Association cautions to be careful with hard candies.
Popcorn Balls – Always be careful when you are eating popcorn in general as it is a choking hazard. From time to time we have seen the accidental kernel that was bit into and caused damage to a tooth, although the biggest problem with popcorn is the hull. The hull is the part of a kernel that splits off and finds its way in our gums, or in between our teeth. Carefully try to dislodge the hull with floss. If not properly removed, popcorn hulls can cause the gum to swell or sometimes infections.
Remember to always brush your teeth after eating any type of candy or sugary substance.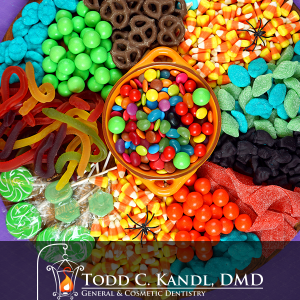 ---